Spiritual Dreaming Retreat
Three Day Rustic Retreat
Join us for three days of renewal and retreat in the high desert of New Mexico. Spiritual Dreaming and Out of Body Travel will be the focus of this retreat as we discover ways to reach and maintain lucid connections in the dream world.
A retreat created for men and women, this event combines teachings of many belief systems, along with my personal knowledge from dream travels to bring our internal energies into greater balance. It is when we reach and maintain this balance point, that lucid dream experiences naturally become a part of our lives. The weekend concludes with a ceremony to bring heightened consciousness back into our everyday lives.
Spiritual Dreaming is a gift that is developed over time, that continues to develop and matures as we grow in consciousness. We will not be discussing techniques that initiate a quick entrance into the lucid dream world, but instead will focus on the vibrational changes required of the physical body in order to become lucid.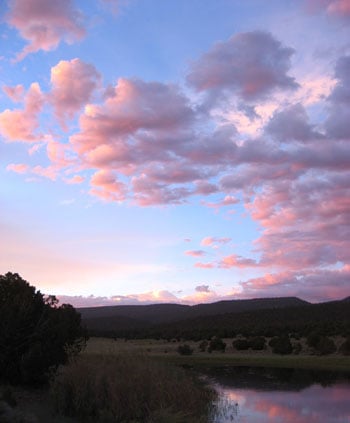 Mythical experience speaks the language of our soul and can open up new areas of energy in our lives, their gifts helping us to gain perspective by offering healing and guidance. This is a weekend around the fire circle - of drumming, ceremony, discussion and discovery.
Please come with an open mind and a long term desire and commitment to discovering the dream world.
See contact for additional information.
Fee:   $400 plus transfers if traveling by plane or bus ($50 - $100 each way) from Gallup, Grants or Albuquerque
(Partial work scholarships are available.)
Your $100 Deposit - refundable until 30 days before the retreat - will save your place. Balance due one week before the event.
Dates:
Currently only scheduling Private Retreats
Facilitators:
Location:
DreamCamp Retreat
El Morro New Mexico
Retreat Includes:
Fire Ceremony
Dream Discussion
Dream Guidance
Healing Ritual
Dream Chair Session
Optional Day Trip to the Wolf Sanctuary
Tent Camping
Communally prepared meals Friday Dinner through Sunday Lunch.
Click to return to the Holistic Healing Retreat Page
Spiritual Dreaming Retreat New Mexico