Spiritual Healing Center
Spiritual Center
Once visited by Conquistadors, this Ancient Home of the Anasazi Indians has many stories to tell. Surviving the early 1900's clear cut by the Railroad to create the railway, El Morro has regenerated and appears pristine and untouched - now thick with Pinions, Ponderosa Pines and Junipers. Today, an eclectic community of artisans, actors, organic farmers and healers make this sacred land their home. The EMAAC Art Gallery, Inscription Rock Trading Post, Ancient Way Cafe (and cabin rental), El Morro Feed and Joe L's Emporium all sit together at the Eastern Base of the Rock in El Morro Village . . .
Amy and Louie Garduno of Moondance Ranch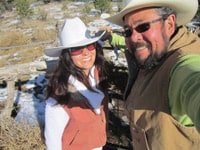 Amy and Louie are wonderful intuitives and offer Reiki Energy Healing, Intuitive Oracle Readings, Meditations, Spiritual Life Coaching and Herbal Remedies (hand made salves, tinctures, oils, lip balm, natural toothpaste and more) at their Healing Center in El Morro.
Call: 505-567-4299 or email to Schedule
an appointment.
Open: Seasonal
Spirit Communication with John Stone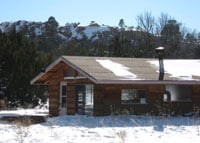 Attunements to align the physical body to receive spirit communications through lucid dreaming, visions and out of body travel. Also assistance interpreting dreams and visions. Vision Quest Ceremony available during summer months. See Dreamwork and Retreat page for additional programs.
We now have a Body Sound Chaise, a chair that helps one to experience an altered state of consciousness. Body Sound technology uses strategically placed transducers to produce synchronized sound, vibration and a magetic field that affects the human energy field. The result is a heightened spiritual experience that can help us to understand our true spirtual nature. Learn more about experiencing a Dream Chair Sound Healing Session.
Tent and some indoor space available for overnight stays.
Offered at DreamCamp Retreat, two miles from El Morro Village on Hwy 53.
Redwulf and Feather's Healing Center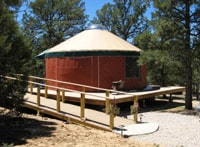 On the south side of 53 in El Morro Village, the Healing Center is located at the southern edge of the park near the Ancient Way Cafe. Redwulf and Feather have many spiritual offerings, including spiritual cleansings, journeying, dreamwork, vibrational workshops and more. In addition, they have a fire circle for ceremony, a sweatlodge and access to Ancient Way's Yurt for winter ceremony and drumming.
Ancient Way Cafe and Cabin Rental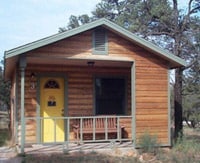 Can't get enough done in a single day visit? Ancient Way offers cabins with year round availability and access. Click the (Cabin Rental) link above for contact.
Considering a visit to El Morro . . . .
El Morro Village is just 40 minutes south of Grants on Hwy 53. (Grants is about an hour west of Albuquerque on I40.) Even though winters can sometimes be unpredictable, Highway 53 usually offers year round access . . . .
Images from El Morro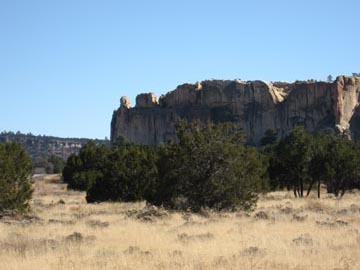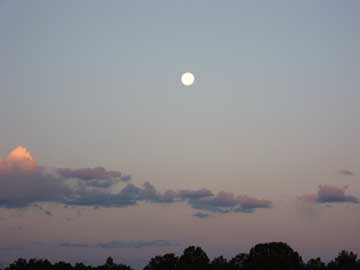 Spiritual Healing Center New Mexico - Near Albuquerque